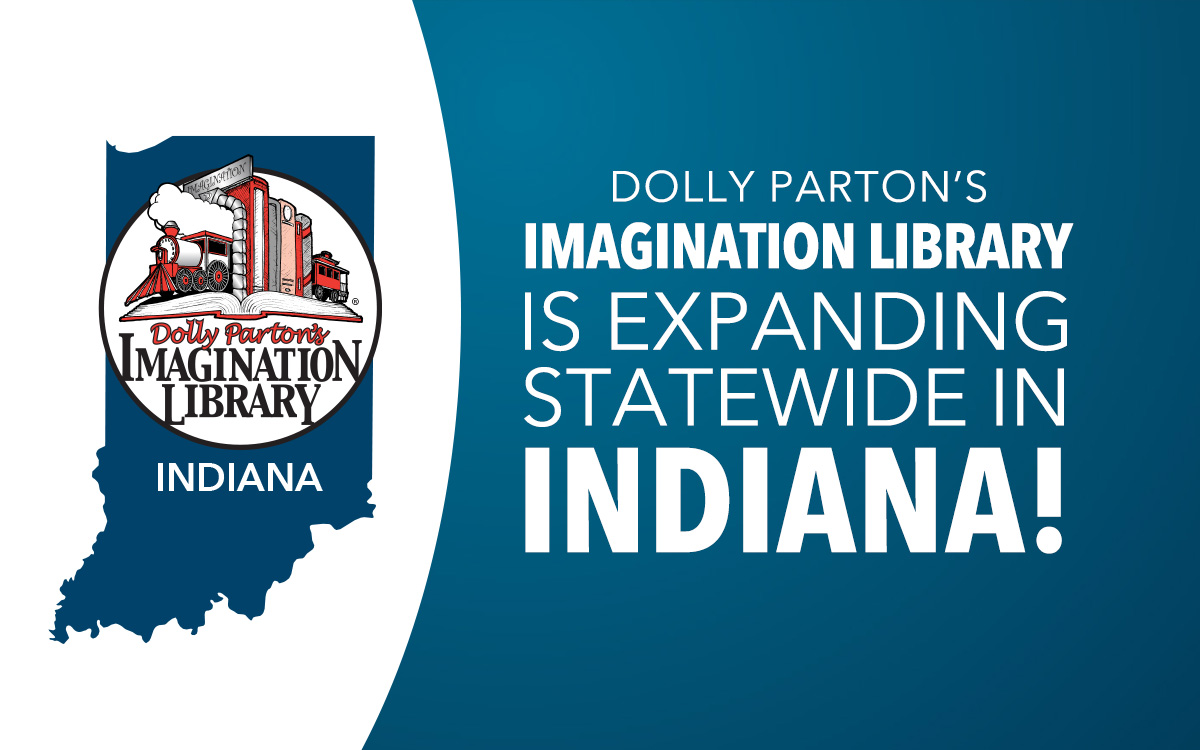 Dolly Parton's Imagination Library

will soon be available to all children under five in Indiana!
Governor Eric J. Holcomb joins Dolly Parton to announce the Indiana statewide expansion of her namesake Imagination Library book-gifting program. Dolly Parton's Imagination Library is dedicated to inspiring a love of reading by gifting books each month to children from birth to age five, free of charge through funding shared by state and local community partners. Children must be registered by a parent or guardian in order to receive the books. There is no charge to register or receive the books. Age-appropriate books are mailed directly to the homes of registered children each month.
"It takes a lot of great people working together to make this possible, and I want to thank Governor Holcomb, the Indiana General Assembly, State Librarian Jake Speer and all our Local Community Partners across the state who helped make this dream a reality," Dolly said.
Gov. Holcomb announced Dolly Parton's Imagination Library statewide expansion as part of his 2023 Next Level Agenda. On May 4, 2023, Gov. Holcomb signed legislation into law that allotted $6 million over the biennium, $2 million in the first year and $4 million in the second year, as part of a community share to expand the program to every zip code in the state.
"I learned from a very young age that reading is the key to education and opportunity," Gov. Holcomb said. "The ability to read can transport children to places they have never been before and open doors they never knew existed. By making Dolly Parton's Imagination Library available in every zip code, we are giving Hoosier children the tools they need for literary success."
Goals for Expansion
The goal of the statewide expansion is to make books available to children ages 0 – 5 in every zip code in Indiana. The program is free to enrolled children and will soon be available to more children and families in Indiana. The Indiana State Library will coordinate the program and provide the state's match to interested organizations or individuals to become local program partners. Currently in Indiana, Dolly Parton's Imagination Library is available in 54 counties and is partially available in eight counties, with expansion plans to fully cover the entire state – all 92 counties. Starting Sept. 1, current local Imagination Library partners will only pay 50% of their local program cost with the remaining 50% paid by the state.
Register a Child
Check availability to enroll your child or sign up to be notified when a program comes to your community.