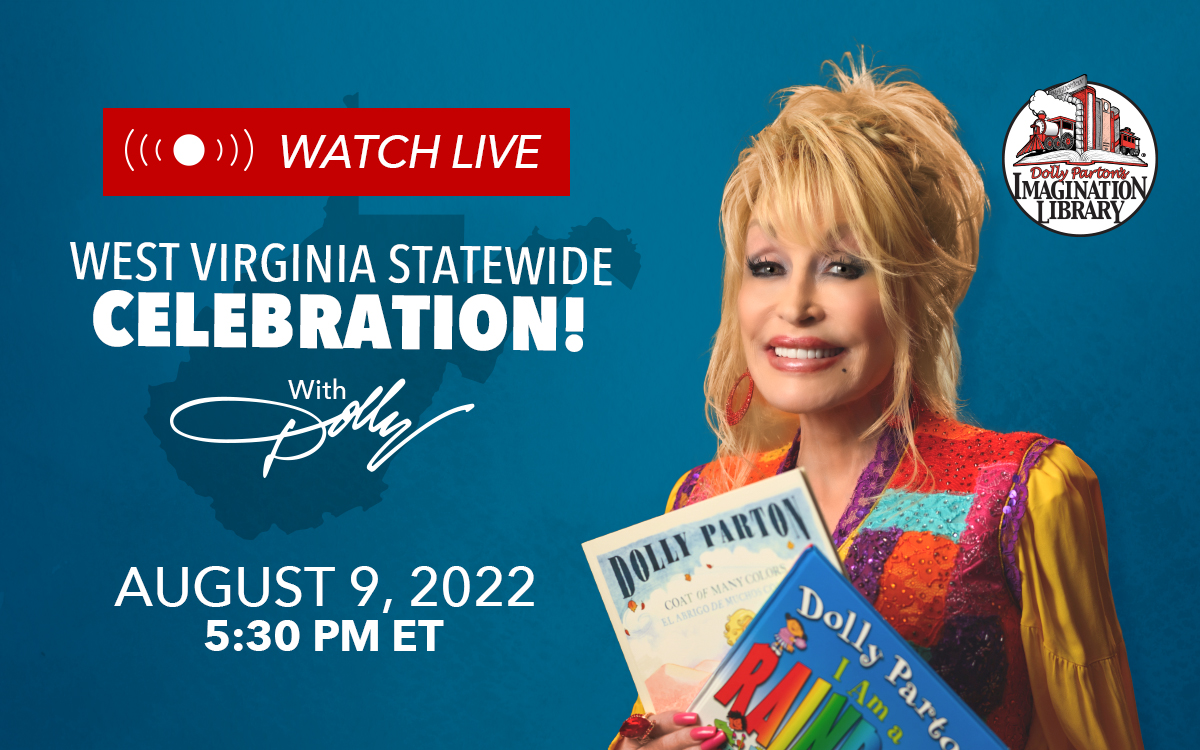 Watch as Dolly Parton performs live during a visit to the West Virginia Statewide Celebration of the Imagination Library, streaming live Aug. 9 at 5:30 PM ET.
On Tuesday, August 9, join Dolly Parton for a livestream broadcast as she visits West Virginia for a statewide celebration of her Imagination Library!
Children whose parents enroll them in Dolly Parton's Imagination Library of West Virginia receive one, free book in the mail each month from birth through age five at no cost, creating a personal library of as many as 60 books that can help form the foundation of a child's early reading experience. The program is administered through a partnership between Marshall University's June Harless Center and the West Virginia Department of Education (WVDE).
Last year, the WVDE announced a major Imagination Library milestone with all 55 counties becoming active in the program. Dolly promised to visit West Virginia once all counties were onboard, making the state one of 11 in the U.S. with the distinction.
West Virginia Livestream Event at 5:30 PM EST
At 5:30 p.m. ET, tune in to watch Dolly as she joins West Virginia Governor Jim Justice for a sit-down interview and musical performance to celebrate the statewide expansion of West Virginia's Imagination Library. The special livestream broadcast will be available to watch simultaneously on West Virginia Public Broadcasting television stations and social media channels, YouTube, as well as the Imagination Library website and Facebook page — and will include a performance by the Appalachian Children's Chorus, greetings from Gov. Jim Justice, presentations from State Superintendent W. Clayton Burch, and a fireside chat with Marshall University President Brad Smith.
Register a Child
We're celebrating the successful statewide coverage of Dolly Parton's Imagination Library and the eligibility of children under five to enroll in West Virginia! Check Availability in your area and register a child for Dolly Parton's Imagination Library today.